Scuba Diving in Amed, Bali: Complete Guide to Bali's Quiet Dive Capital
Tucked away in the quiet of Bali's northeastern corner, cradled by Mount Agung, you'll find one of the epicenters of scuba diving in Bali: Amed.
The charming fishing village of Amed with its black sand beaches and traditional fishing boats is the perfect gateway to the underwater world of Bali, Indonesia.
Now home to countless dive centers teaching everything from freediving to PADI Open Water (and Advanced Open Water) courses, as well as fun dives for those who are already certified.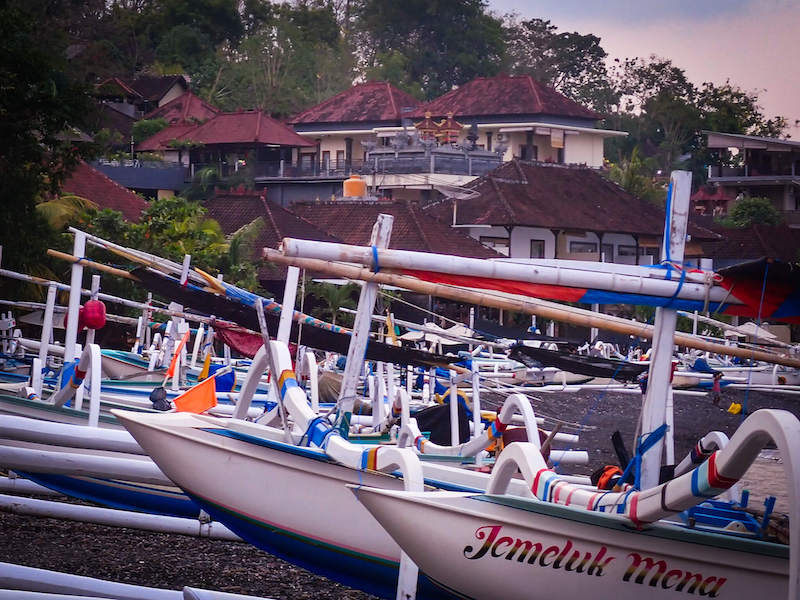 Home to an incredible mix of dive sites, with everything from shore diving to boat diving by jukung (local fishing boats), you can really pick your own adventure in Amed.
Will it be muck diving for macro photography of tiny critters, diving along an impressive coral wall, or going for an exhilarating drift dive that has you blasting through the water like Superman?
All of these options are available to you in Amed — and that's not even speaking of the dive opportunities just 30 minutes away in Tulamben, where you can dive the USAT Liberty (an experience so incredible it warranted its own post) and other sites (which will be discussed in a future blog post).
Getting to Amed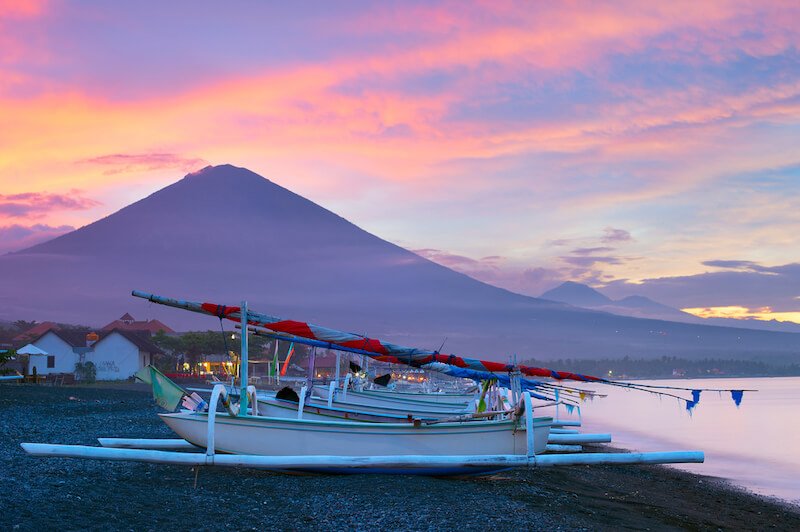 It's really easy to get to Amed from Bali's international airport, Ngurah Rai.
While Amed isn't close per se, transportation is really affordable. I paid 700K IDR ($44 USD as of November 2023) for a private transfer from my hotel.
Since I arrived late at night, I stayed the night in the Novotel airport hotel and then had my driver pick me up the next day.
The drive is about 3 hours, so you'll be there in no time!
You could rent a scooter, but I don't recommend it, at least not with bringing all your luggage with you.
If you really want to rent a scooter, just rent one locally when you arrive in Amed.
Best Time for Diving in Amed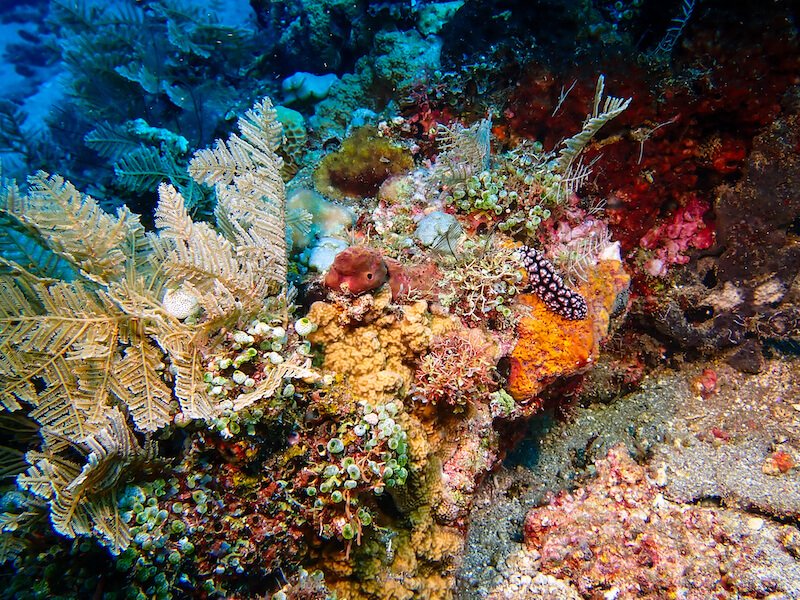 Honestly, you can dive in Amed any time of year and it should be pretty good. Indonesia is just blessed like that!
Unlike some Oceania dive destinations like Tahiti or Fiji, Bali rarely gets cyclones or typhoons, so even if you travel to Bali during the rainy season, diving is still usually an option.
Bali's dry season runs from May through October, and November through April is considered its rainy season.
However, here I am writing this blog post on November 10, 2023 and I haven't seen a single drop of rain since I arrived in Bali over a week ago!
Water temperatures in Amed are pretty delightful year-round, too. Currently, I'm diving in balmy Bali waters of around 31° C (88° F) on the surface and 29° C (84° F) underwater!
These are pretty typical temperatures for Amed diving, where the water is typically in the 28-29° C range without much variance.
Amed has pretty good visibility year-round, typically from around 15 meters to 25 meters, or 50 feet to 80 feet.
Occasionally, during the rainy season, the viz can drop a bit, but typically only in very bad weather conditions.
Dive Shops in Amed & Typical Dive Prices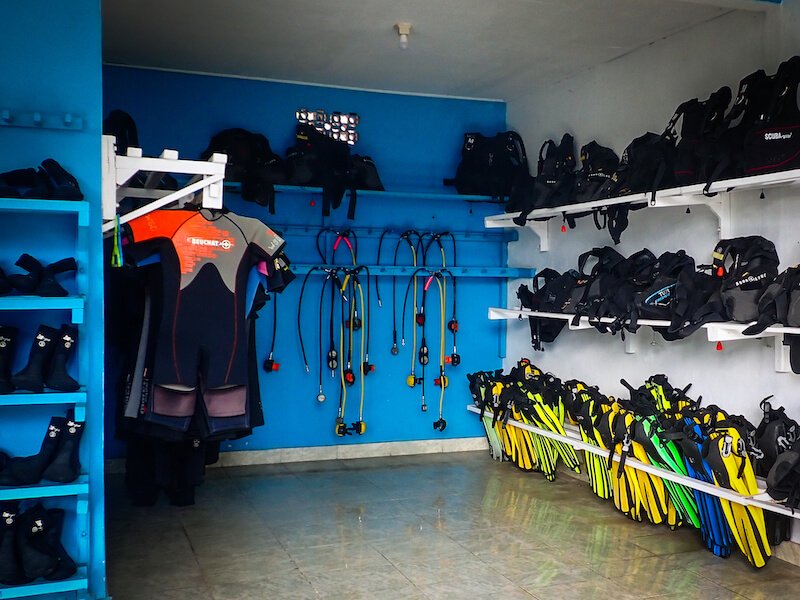 I ended up going with Amed White Sand Divers because they are locally run and operated which I really appreciate.
They're also committed to keeping groups small. Even on days that there were multiple people diving the same area, I stayed with my divemaster, just us two diving together the entire time.
I was really happy with my divemaster Nyumen — he spoke good English, and he clearly knew a lot about the dive sites, always familiar with what to look out for and where. He knows the dive sites like the back of his hand!
That said, you may prefer to dive with a shop that speaks your native language, especially if you're doing a course and aren't very comfortable with English.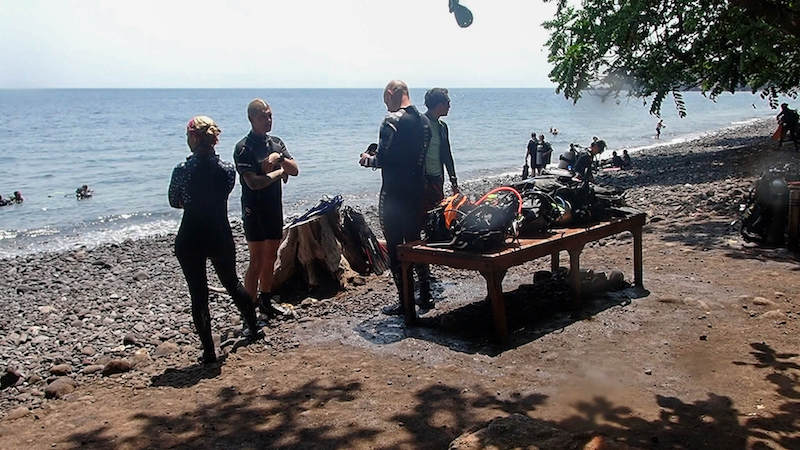 For French speakers, there are lots of dive shops advertising in French, like Abyss Dive Center.
Amed White Sands Divers also has at least one German speaking dive guide in case you are seeking that out.
In terms of typical costs, a Discover Scuba Diving experience will usually run you about 1,200,000 IDR for a half-day two-tank experience ($76 USD).
This is what you'll want to do if you've never taken any PADI courses and are not a certified diver, but you are curious about what it entails before you invest in certification.
PADI courses here are really affordable, too. Your PADI Open Water Certification is about 4,800,000 IDR ($305 USD), cheaper than most places in the world!
Advanced Open Water courses tend to be a tiny bit cheaper, around 4.3 million IDR ($275 USD).
You can even bundle them up into a package of both your OW and your AOW for 8.5 million IDR ($540 USD) on a 5-day course, so you can right away start diving to the recreational max limits.
Best Amed Dive Sites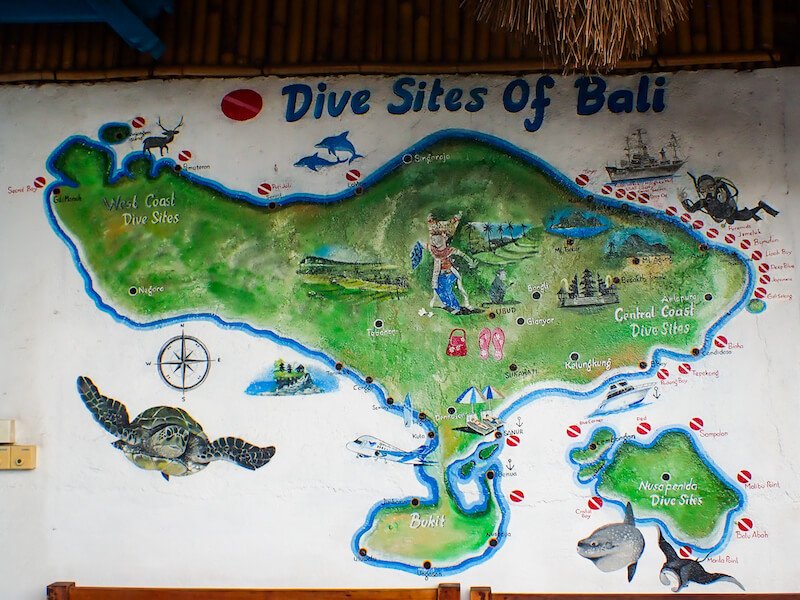 Amed has a nice mix of dive sites, offering everything from coral diving to wreck diving to muck diving looking for fun things like nudibranchs so there's really something for everyone.
In this post, I will go over the best dive sites in Amed that I personally dove, as well as one dive site in Tulamben, the USAT Liberty.
While the USAT Liberty Wreck is not in Amed, it's typically visited by those staying in Amed (as long as they aren't visiting Tulamben separately).
Therefore, I'm including it here even though it isn't technically an 'Amed dive site'.
However, I am still writing a separate post on all the dives you can do in Tulamben (also including the USAT Liberty), so there is a tiny bit of overlap in that one area.
While technically not in Amed, I can't discount the USAT Liberty from this post as it's one of the most popular spots requested while doing a dive trip in Amed, and it is only a 30-minute dive away.
Amed generally has pretty calm shore dives that are suitable for those with minimal diving experience (which is why it's also a great place for those looking to do diving courses!).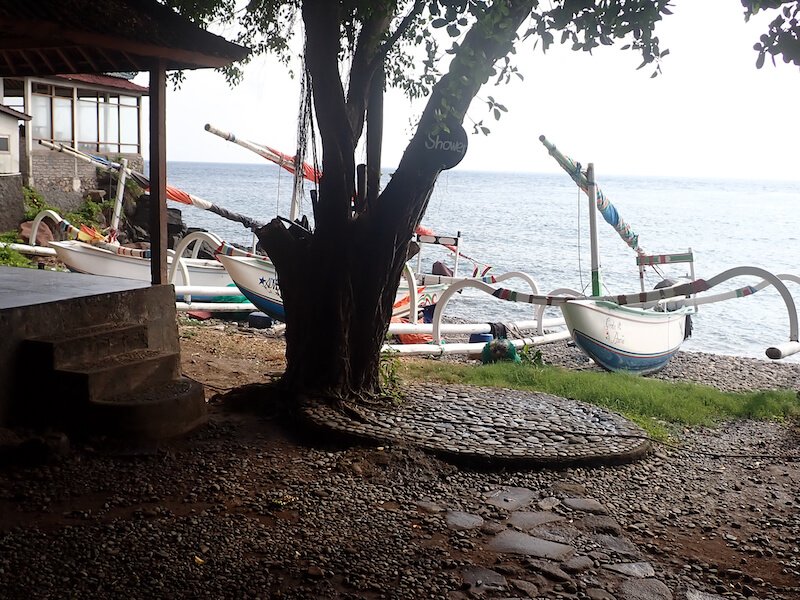 It's great for a new Open Water diver!
There are a few dive sites that require a little more experience, including some drift dives, that I will also talk about in this post.
Japanese Wreck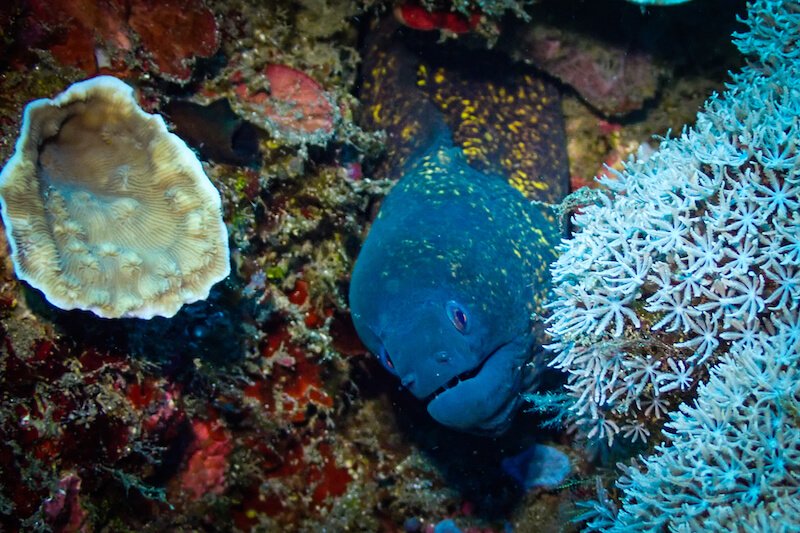 Type of Dive: Shore dive to a shallow wreck dive, with some sandy patches and coral outcroppings to also enjoy
Dive Level: Beginner-friendly
Dive Profile: Maximum depth 25 meters, average depth 14 meters, dive time 54 minutes
Dive Sightings: Chromodoris Elisabethina nudibranch, Gloomy Nudibranch (Tambja morosa), Chromodoris annae nudibranch, groupers, hairy squat lobster, yellow-edged moray eel, Goniobranchus geometricus nudibranch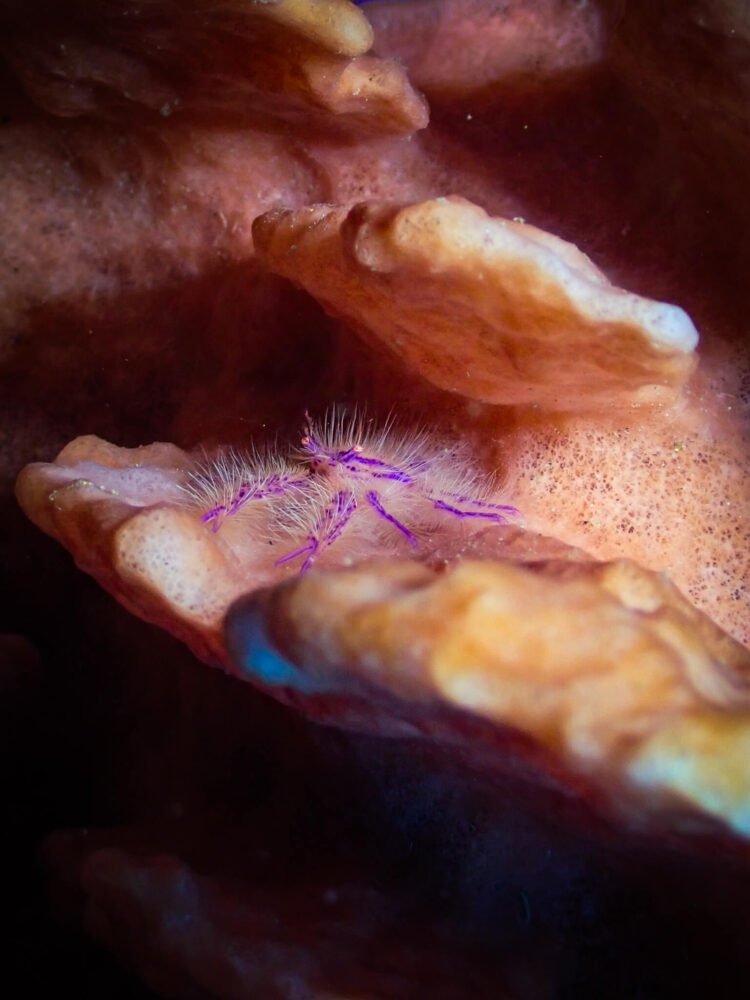 Perhaps the most famous dive site in Amed proper, this is a popular snorkeling spot but it's even better when you can dive it!
The Japanese Shipwreck is Amed's own wreck — a miniature version of Tulamben's USAT Liberty… very miniature, in fact, at only 20 meters or 66 feet in length.
The wreck is very shallow, too, with the top of the wreck at just 6 meters / 20 feet deep (perfect safety stop, anyone?) and the bottom of the wreck maxing out at 12 meters / 39 feet — great for those who only have their Open Water certification.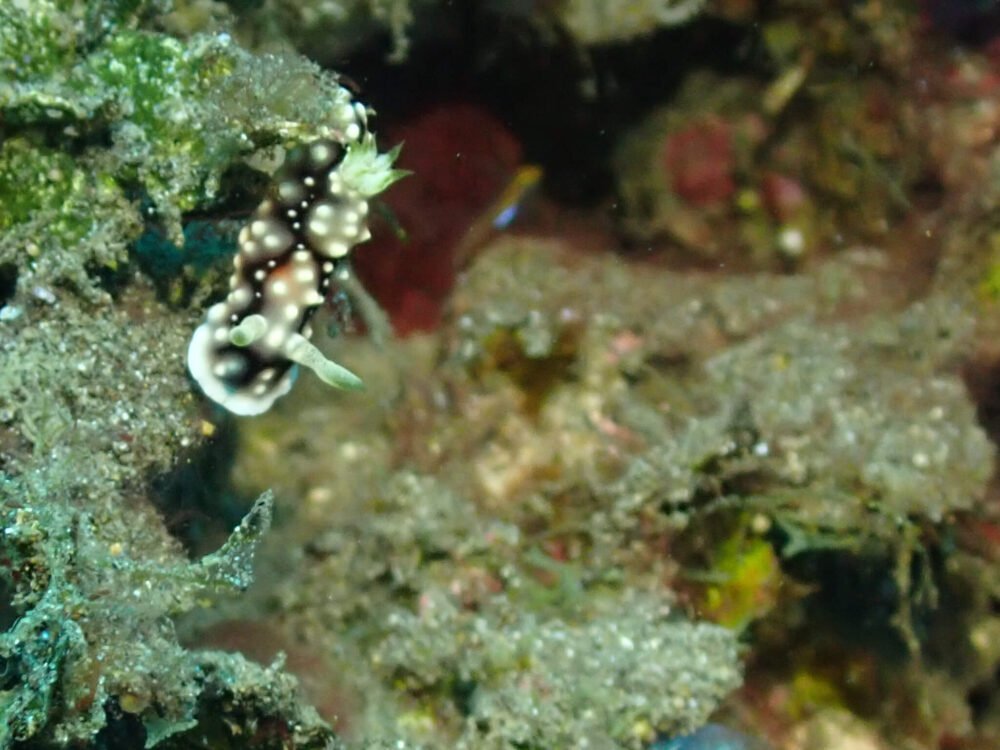 The sunken ship — which was felled in WWII, and is believed to be a Japanese navy patrol ship — has had around 80 years in the water to become completely overtaken by the reef life around it.
In fact, the artificial reef that's taken over the ship is almost indistinguishable in parts from the reef around it.
Fans of bright colorful coral and reef fish will love to see schools of tropical fish darting through crevices in the wreckage; macro photographers will love seeing colorful nudibranchs in sandy patches around the wreck.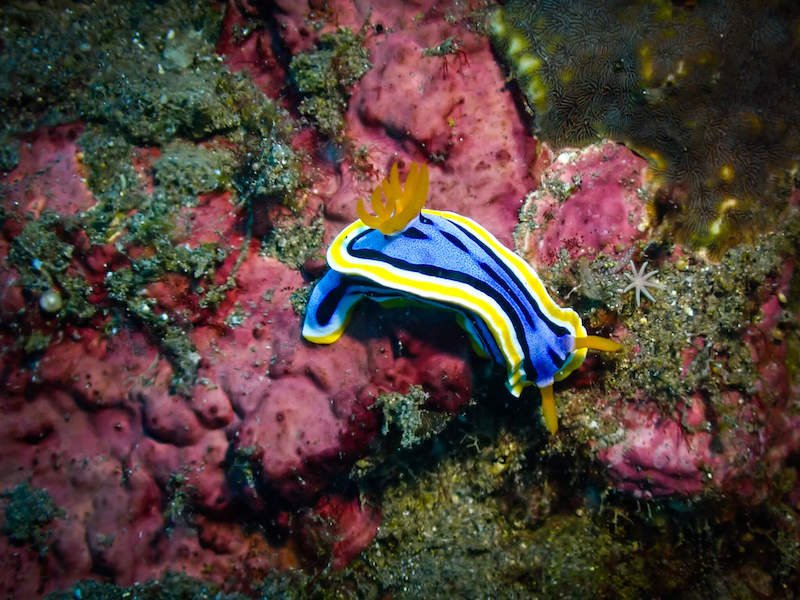 The waters here are calm and clear, allowing for good visibility and easy dive conditions, as well an easy shore entry and exit.
There is some potential for current, but not much — it was very calm when I dove there (but I think mornings are best, here).
It's also a great spot for underwater photography, because there are lots of unique angles to capture the shipwreck from.
Since it's not too deep, you can actually get pretty good color even without expensive dive lights!
Lipah Bay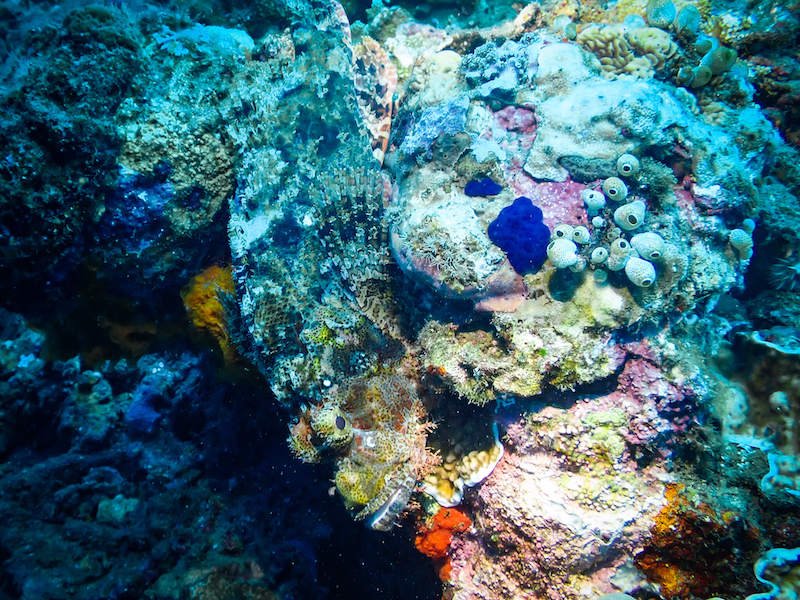 Type of Dive: Shore dive with sandy patches and coral reefs
Dive Level: Beginner-friendly
Dive Profile: Maximum depth 28 meters, average depth 12 meters, dive time 57 minutes
Dive Sightings: Ornate ghost pipefish (white & black), black saddled tobies, leaf scorpionfish, stonefish, pink clownfish, blue painted lobster, yellow trumpetfish, Gloomy nudibranch (Tambja morosa), Hypsedoloris tryoni nudibranch, Phyllidiella pustolosa nudibranch, striped pufferfish, banded coral shrimp, moray eel, clown anemonefish, black & white false clownfish, dogface pufferfish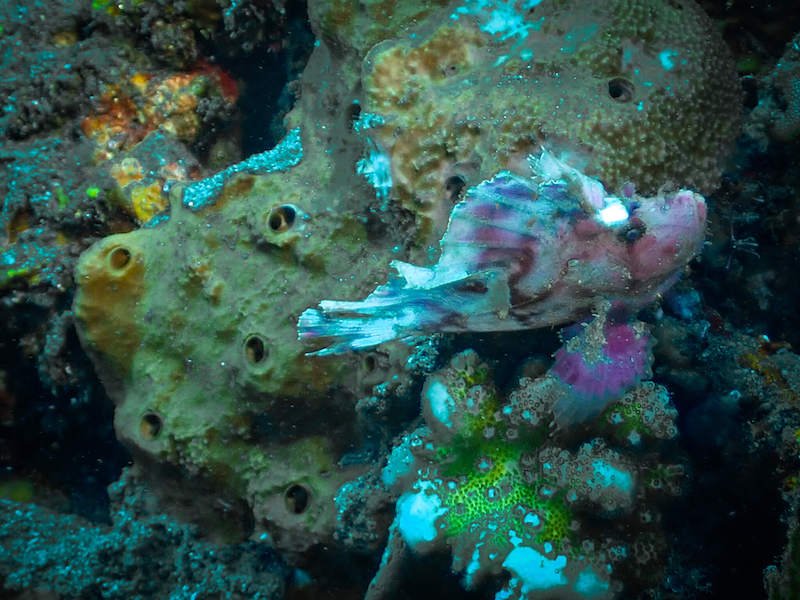 This was the first dive I did in Amed, Lipah Bay.
And boy, was it an incredible introduction the Amed Bali dive scene!
We immediately started the dive off with a bang, spotting some beautiful white ornate ghost pipefish, followed by two leaf scorpionfish: one pink and one white.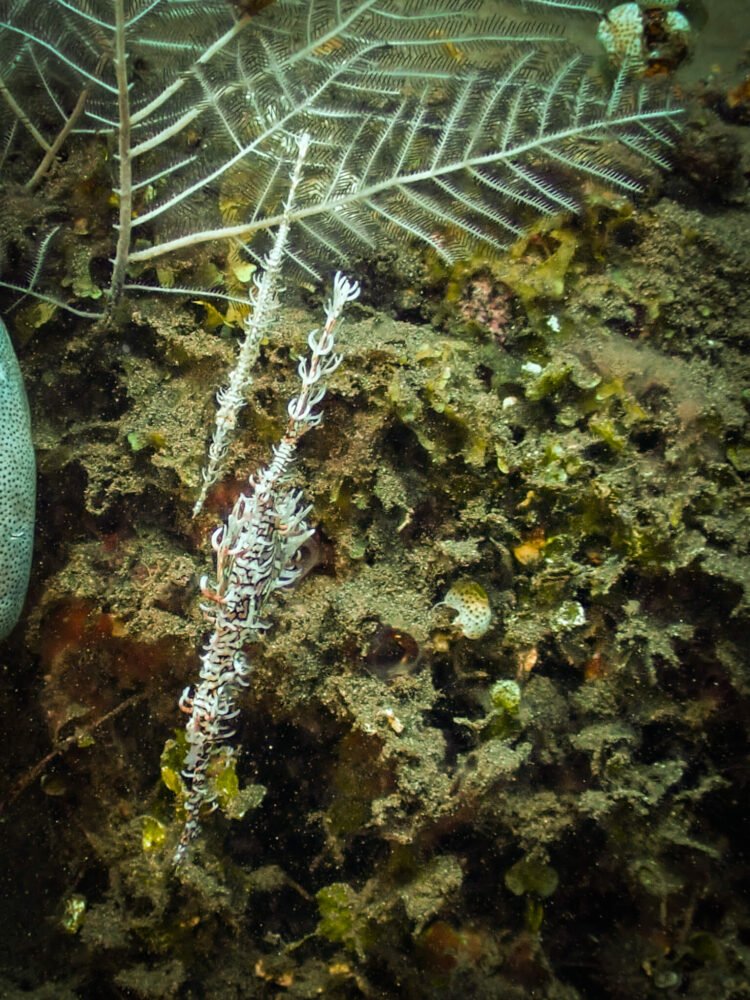 We saw three different types of anemone fish, three different types of nudibranchs including my favorite, the gloomy nudibranch (aka the Tambja morosa).
Plus we saw lots of other cool fish, like the dogface and striped pufferfish — and this weird yellow trumpetfish getting a ride on another fish!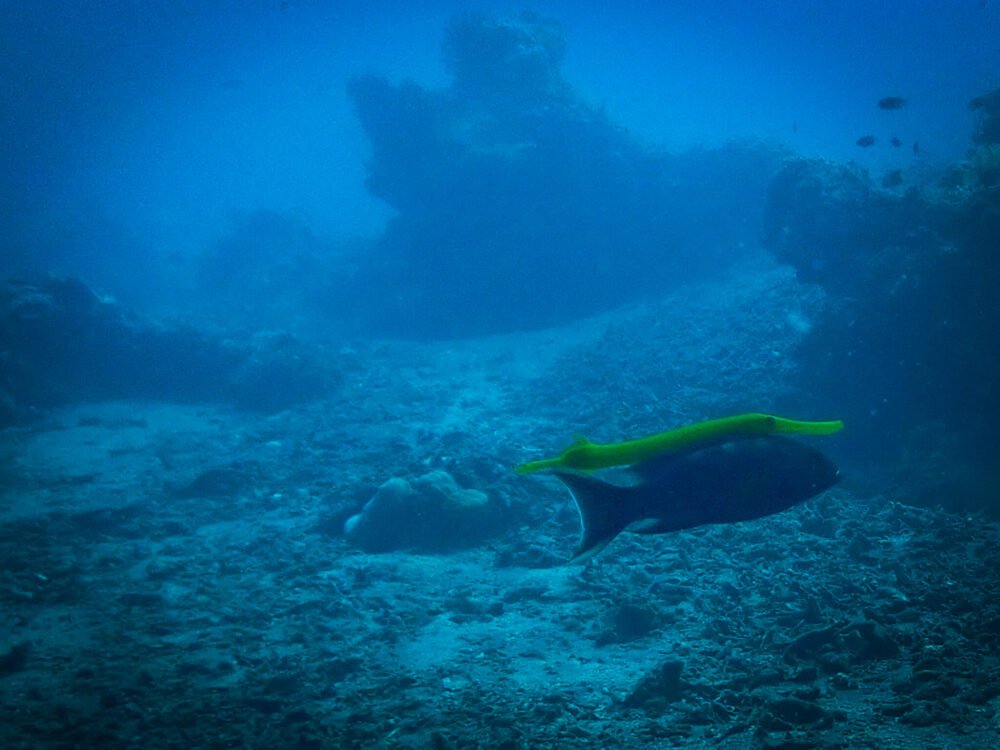 In terms of the coral landscape, it was a mix of sandy patches and coral bommies, giving you opportunities to spot nudis in the muck and gorgeous reef fish like leaf scorpionfish and stonefish on the corals.
The dive site has a nice mix of gorgonias (sea fans), sponges, hard corals, and colorful soft corals.
It's really a beautiful site, and the water is very calm and peaceful here, making for an easy shore entry and exit to the dive, and no current while you are diving (at least not in my experience!)
Jemeluk Bay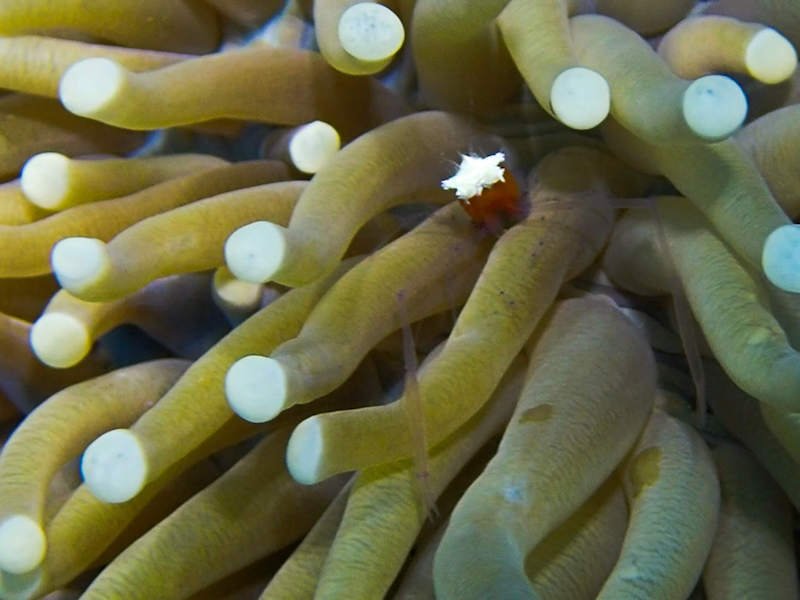 Type of Dive: Shore dive with sandy patches and coral structures
Dive Level: Beginner-friendly
Dive Profile: Maximum depth 20 meters, average depth 12 meters, dive time 58 minutes
Dive Sightings: Emperor angelfish, juvenile ribbon eel, two scrambled egg nudibranches, baby white tip shark, harlequin pipefish, mature ribbon eel, oriental sweetlips, blue spotted ribbon tail ray, peacock mantis shrimp, mushroom coral shrimp, humphead bannerfish, Papuan toby, leaf sheep nudibranch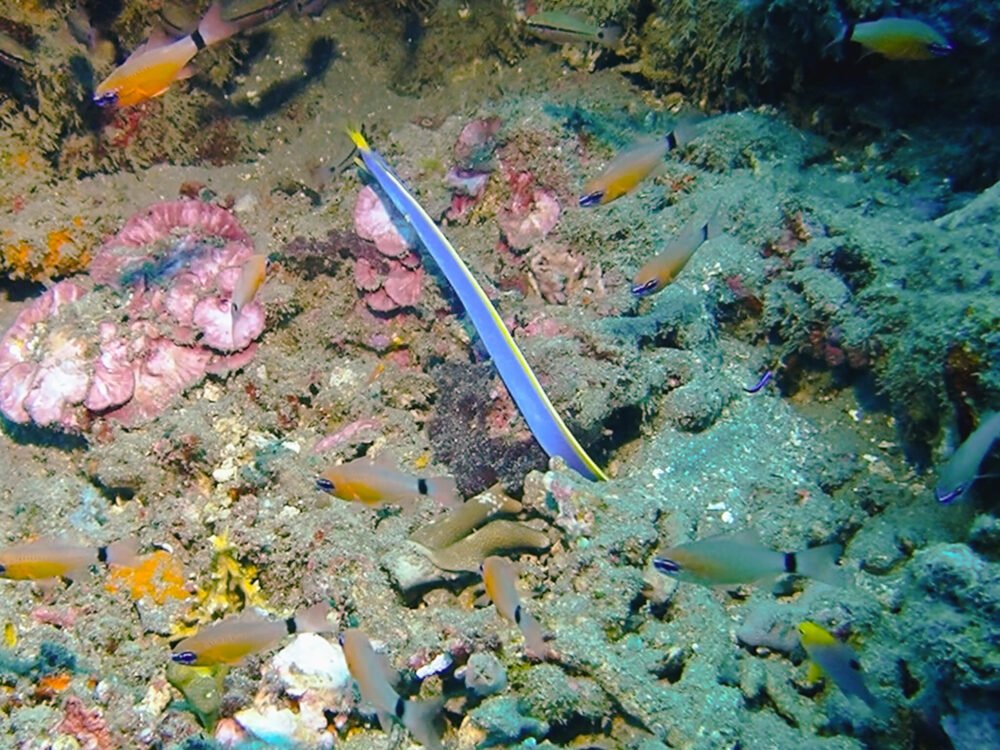 My Dive Experience: This was a pretty incredible dive full of some favorites, like the ribbon eel (who I got to see in both mature and juvenile forms, so cool!).
While this dive was full of incredible sightings that my expert dive guide was able to spot out, this is where my personal inexperience in macro photography really shone through, unfortunately.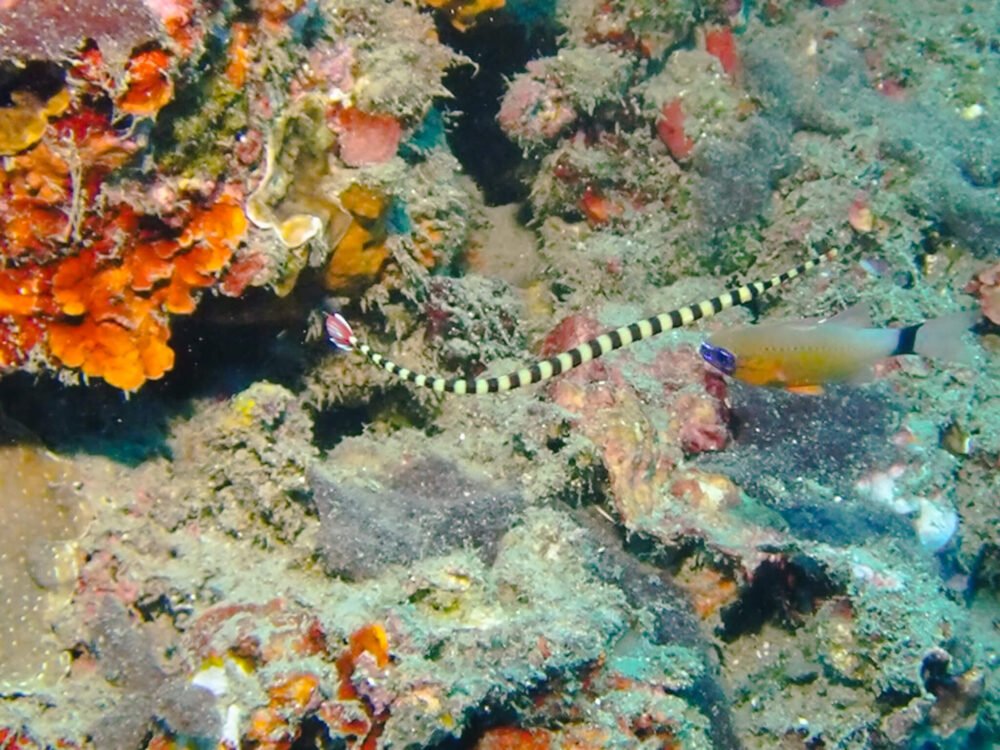 I wasn't able to tell that we had spotted several really interesting creatures until after I got out out of the water and was doing my dive log!
There were two big missed opportunities for me here as an underwater photographer.
One was not understanding that I was looking at a peacock mantis shrimp (they were way bigger than I expected — I thought it was a lobster that had molted its shell!), which would have been a great subject to try to capture up close (well, not too close — out of the way of its punching range!).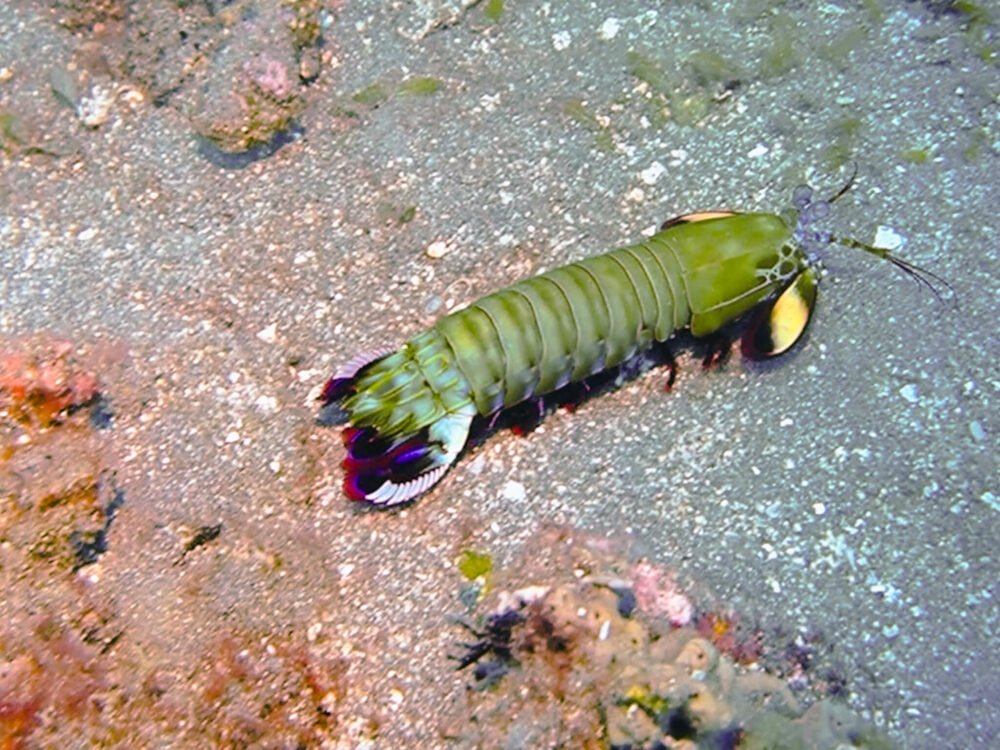 And perhaps more devastatingly, not noticing that the final teeny-tiny nudibranch my divemaster found was the elusive leaf sheep nudibranch, which had been on my wish list.
It was so tiny that it was smaller than a grain of rice, I could barely see it!
Plus, it was near the end of the dive, so we were in relatively shallow water getting bumped around a bit by the waves coming in, so I wasn't able to stabilize my buoyancy very well for a photo: this is the best I got!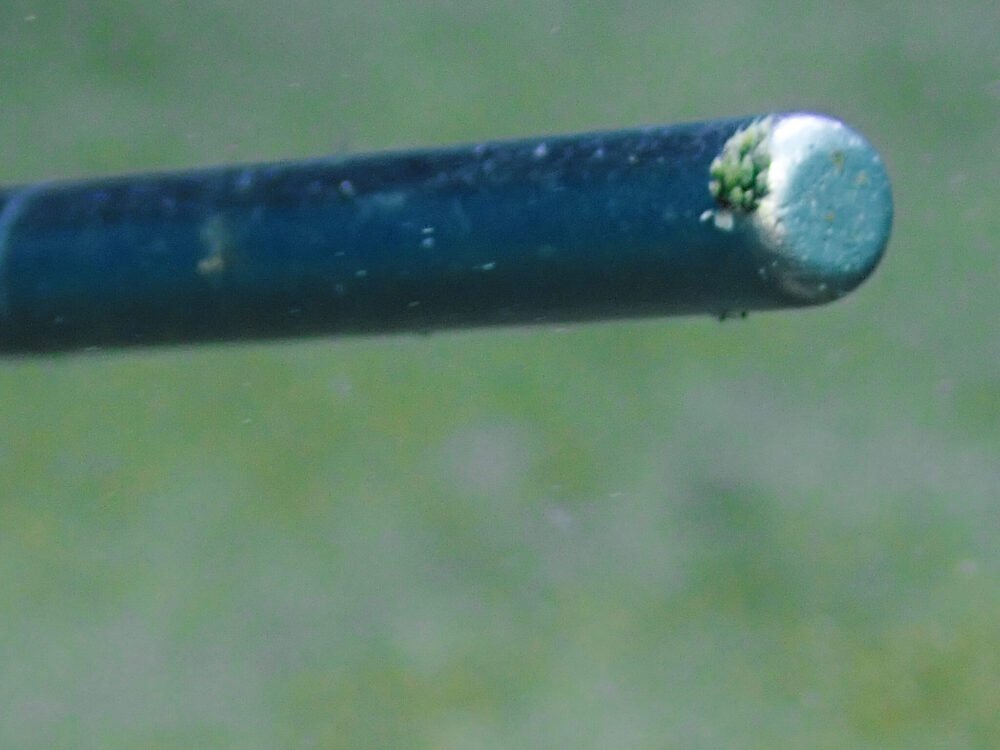 Only later did I realize that I missed out on one of the natural world's cutest nudibranches!
Oh well, hopefully next time I will really understand what I'm seeing and take a better photo. There's always more dives.
As you can see, this dive was a macro photographer's dream — we saw a little of everything!
This is another dive site similar to Lipah Bay in that there is a nice mix of muck (sand diving where you can find nudibranchs and other similar critters) and coral diving, where you can see lots of beautiful reef fish.
I also came back to this dive site for a night dive, so here are the specs for that dive, and a little of what I saw on the night dive: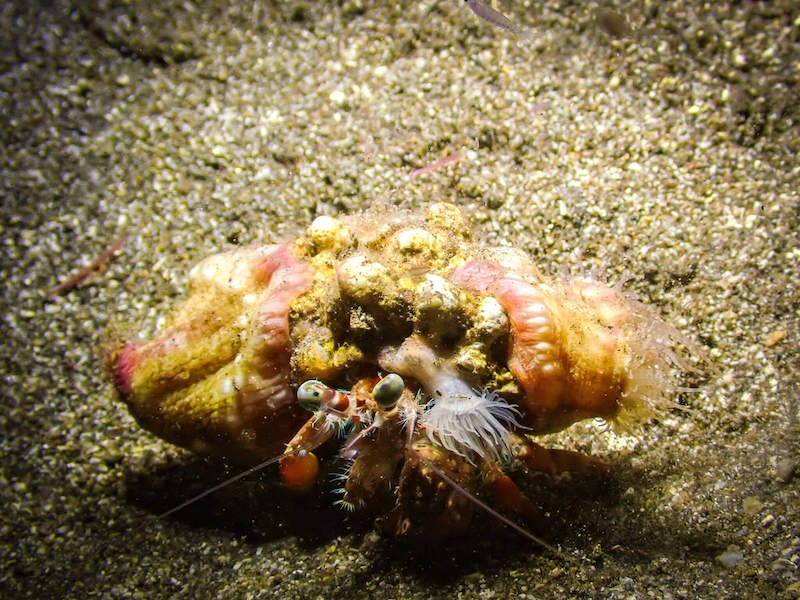 Type of Dive: Shore dive / Night dive with both muck diving and admiring coral structures
Dive Profile: Max depth 22 meters, average depth 10 meters, dive time 76 minutes
Dive Sightings: Harlequin crab, sexy anemone shrimp, baby cuttlefish, baby octopus, hermit crabs, orangutan crab, slender sapsucking slug (Thuridilla gracilus), baby cornetfish, group of Gorniobranchus kuniei nudibranchs, Forskal's Pleurobranch and Pleurobranchus peroni (huge sea slugs!), Plain Noumea nudibranch, blue painted lobster.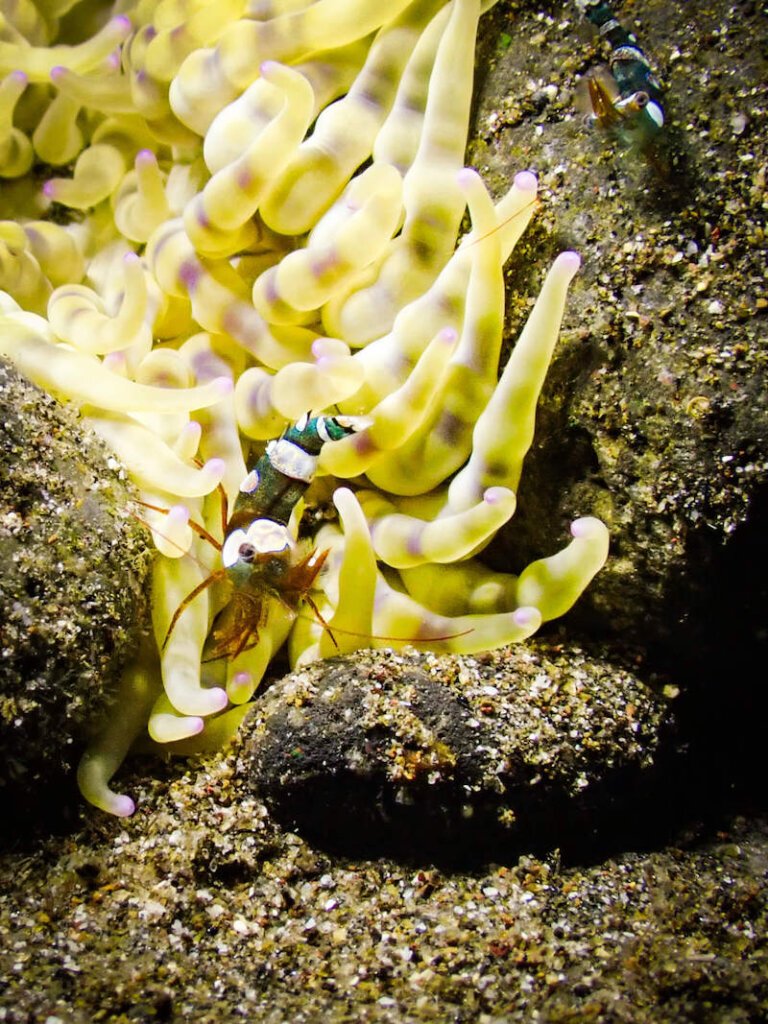 My Dive Experience: This was an incredible dive — I was really grateful that my awesome divemaster, Nyumen, let us have a nice long leisurely dive that stretched to a lovely 76 minutes underwater because it was total bliss for me!
His expert eye pointed out so many amazing things that I had no idea existed… including huge sea slugs (called pleurobranches), including one so large I initially thought it was an octopus until I watched it move for a while!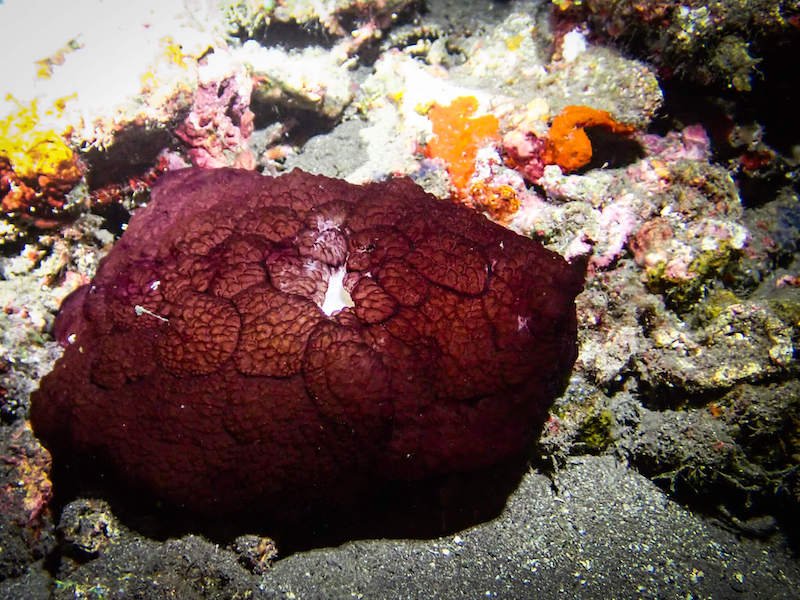 We also spotted a lot of really cool critters, like some gorgeous hermit crabs, harlequin crab, and other beauties.
We also got to see the ornate ghost pipefish who love this dive spot and are predictably here in the same patch (so you will very likely see one).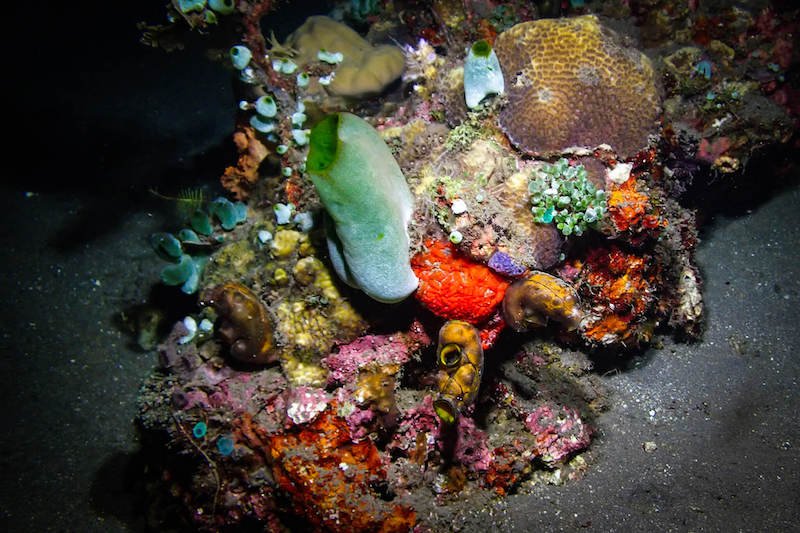 We explored between the sandy patches and the coral areas and saw quite a bit, including regular nudibranchs and sapsucking slugs!
My favorite part was getting to spot some of my favorite nighttime creatures… a cuttlefish and an octopus.
Even more special, both were babies — the cuttlefish in particular was so tiny, it was hard to believe it was real!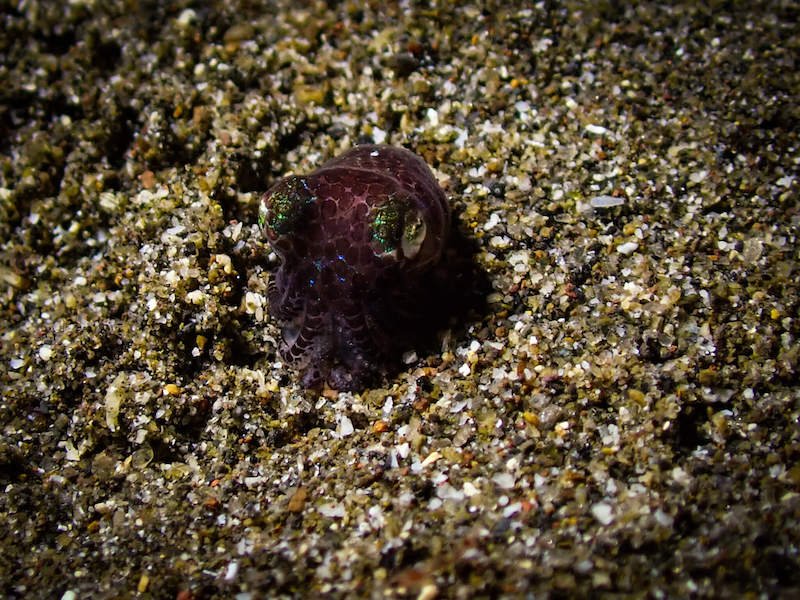 It was definitely a great site for a night dive and I'd recommend it as one; it's totally different than what we saw during the day.
If you're worried about repeating a dive site when you do a night dive, don't be — you'll see in a totally new light (literally).
It's really cool!
Jemeluk Wall
Type of Dive: Boat dive / Wall dive with mild drift, boat picks you up
Dive Level: Intermediate (due to depth, AOW is recommended)
Dive Profile: Max depth 26 meters, average depth 17 meters, dive time 51 minutes
Dive Sightings: Baby black-saddled toby, Hypselodoris apolegma nudibranch, Papuan toby, stonefish, lion fish, Gloomy nudibranch (Tambja morosa), white-spotted boxfish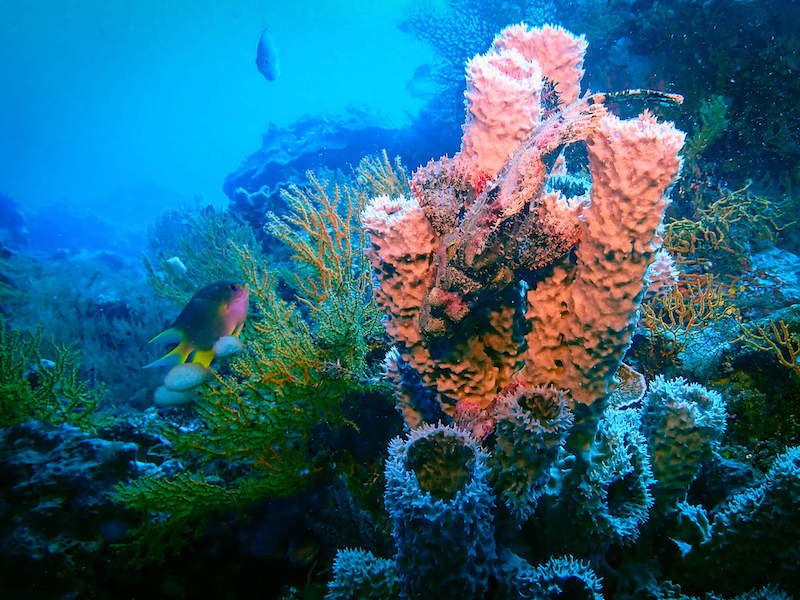 This might be one of my top dives in Amed, which is saying something, as I've loved all my dives in Amed!
We did this as a boat dive, though technically, you could swim from shore and do it as an out-and-back shore dive, but you would only see a very limited portion of the wall.
Especially since this is a deeper dive, you use up your air more quickly (this was my shortest dive in Amed), so it's helpful to do this as a boat dive so you can really see as much of the wall as possible.
We didn't go too far in the boat before we got dropped and I was almost wondering why we even bothered with the boat, but then I realized it was so that we could really enjoy the length of the wall to its fullest and then get picked up further out, without needing to double-back.
This wall is simply gorgeous.
Many of the dives in Amed are more about a mix of sandy patches and coral bommies, which is great for macro photographers since you can switch between muck/macro and typical reef photos.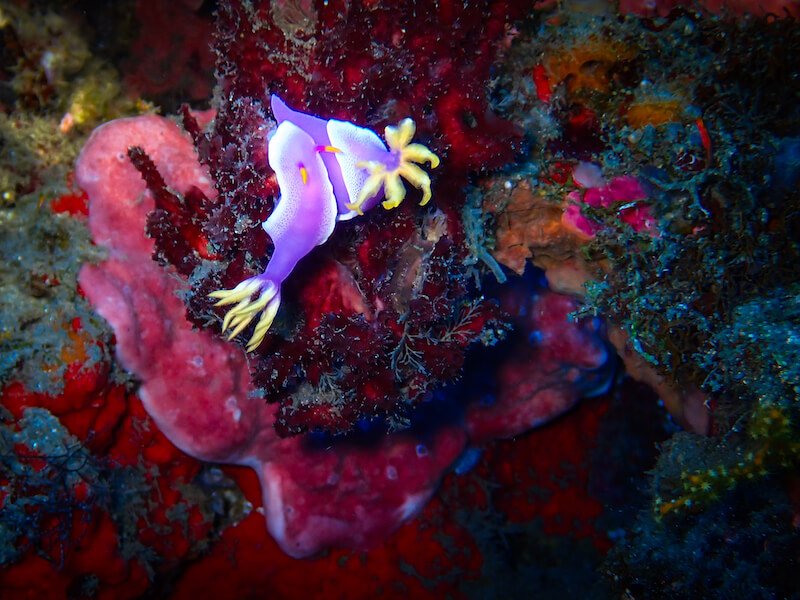 But this dive is all about the incredible scale of the coral wall along Jemeluk Bay, as you traverse the edge of this sheer drop-off. It's truly breathtaking!
That said, you may see some small critters here — I saw some gorgeous nudis on this dive, including a pair of beautiful Hypselodoris apolegma nudibranches at 26 meters, who I had to stop and photograph!
I also saw one of my perennial favorites, the gloomy nudibranch — this one was a rather huge guy that was out and about begging to be photographed!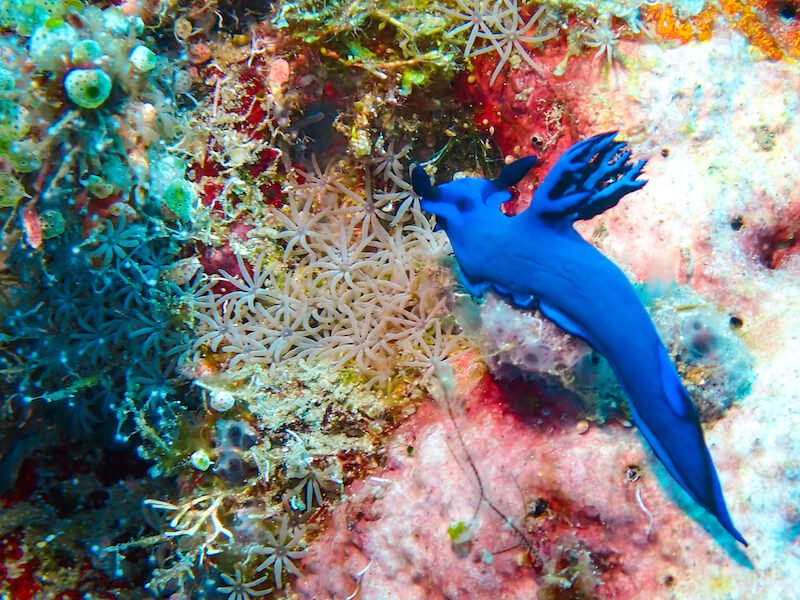 Keep one eye out into the blue — this may be a site where you can see the occasional large pelagic that isn't often seen in this part of Bali.
My DM said his friend say a mola mola there a few days before! Generally, those are only found around the Nusa Penida area (which is also where you'll find manta rays).
Sadly, we weren't so lucky, but I loved the dive anyway!
Pyramids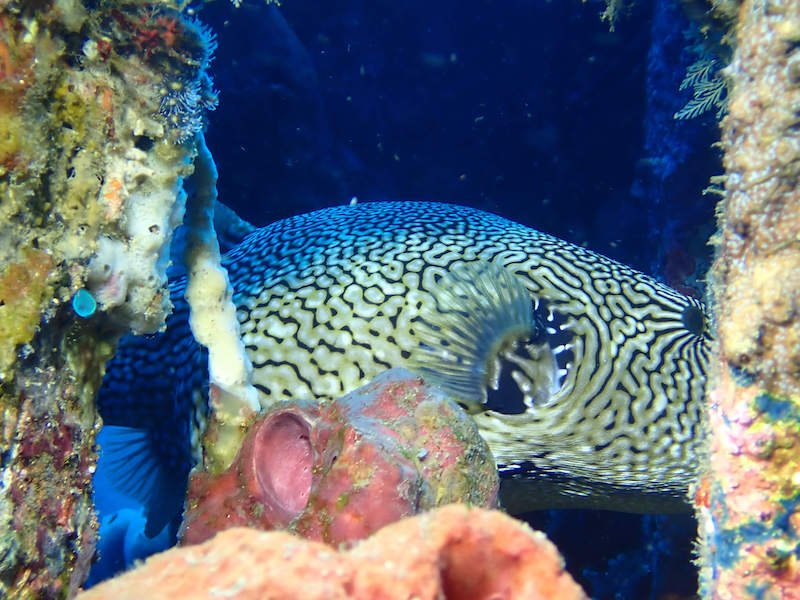 Type of Dive: Boat dive with tons of drift (strong current!), boat picks you up further down.
Dive Level: Intermediate (due to strong current, proficiency in the water is recommended)
Dive Profile: Max depth 22 meters, average depth 13 meters, dive time 58 minutes
Dive Sightings: Garden eels, two map pufferfish (including a massive one!), yellow boxfish, black blotched porcupine fish, white-tip reef shark, two hawksbill turtles.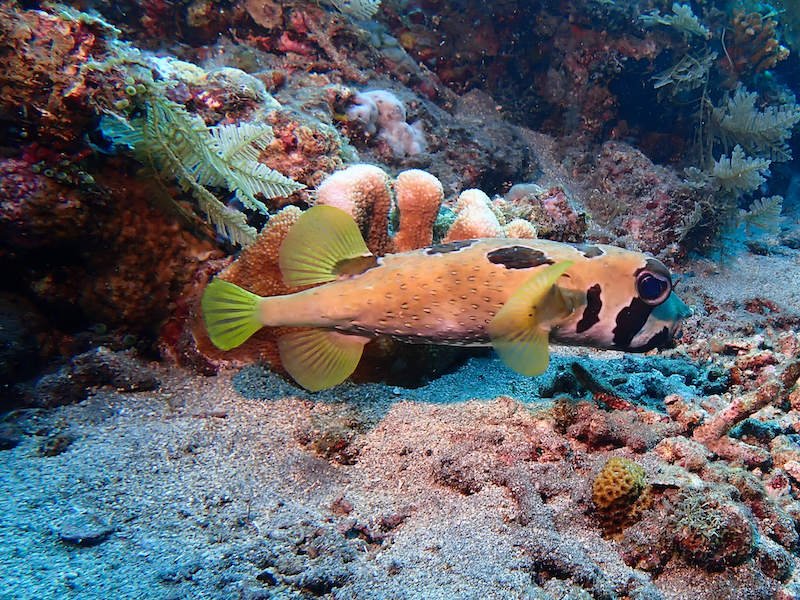 This was a definite change of pace when it comes to diving in Amed — my first true drift dive there was quite the experience!
After several days of calm water diving and shore dives, Pyramids was definitely a wild ride that brought me back to the days of drift diving in Cozumel — the ripping current there definitely rivaled Yucab Reef!
This dive is really cool because it's full of artificial reefs, hence the name — many years back, in the 1970s, locals placed lots of cinderblocks together in pyramid-shaped structures in order to encourage an artificial reef to grow here.
That effort was a wild success — these 'pyramids' are now rife with visitors who call these pyramids home, great for seeing lots of fish! But there's also lots of other hard corals, like scrawl coral.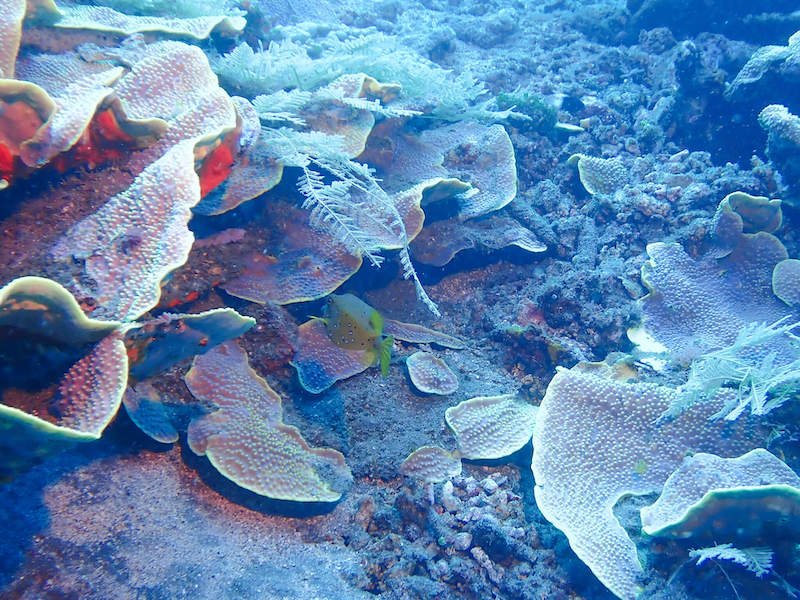 Located between 5 to 25 meters, but with most of the pyramids mostly in the 20-meter range, this is a good dive for intermediate and advanced divers — beginner divers will likely find the current too strong to be comfortable.
With the roaring currents, visibility here is really good — sometimes exceeding 30 meters (100 feet) because of the fast-hurdling current clearing particles from the water.
The coolest thing about Pyramids is taking the time to admire each geometric underwater structure, its own little micro-habitat, an underwater "high rise" of sorts with all sorts of reef critters dwelling there.
Here, you'll see tons of anthias, lionfish, angelfish, pufferfish, butterflyfish: you name it, it has the word fish in it, you'll probably spot it here.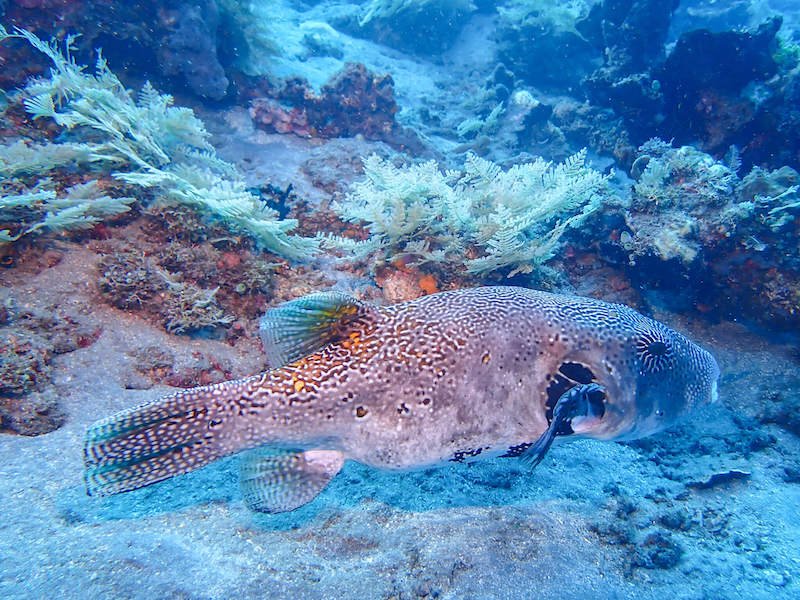 Besides the ripping current, which can easily send you careening in directions you don't wish to if you aren't careful (always keep your eyes ahead!), you should also be careful for the Titan triggerfish in this area, who are rather territorial.
Especially be careful if you see two, one lurking up high and the other below… this is a trap!
My divemaster warned me that if I see this, never to swim between them, but rather go dive below the lower of the two triggerfish.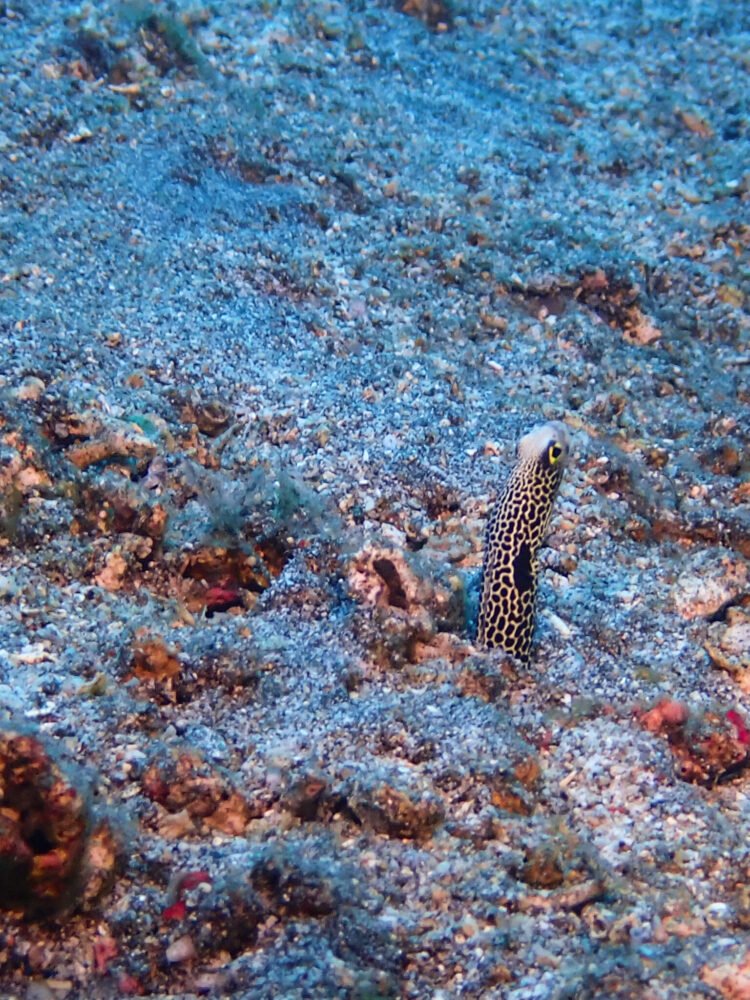 Stay low is basically the name of the game (this will also make the current less intense)…. and it'll help you spot the sight's signature garden eels!
Wild currents and hell-sent triggerfish aside, this is one amazing dive that you shouldn't miss in Amed.
This was the dive where I saw the highest density of big life, with two sea turtles (including a very sociable hawksbill, who actually let me get some great photos of him!).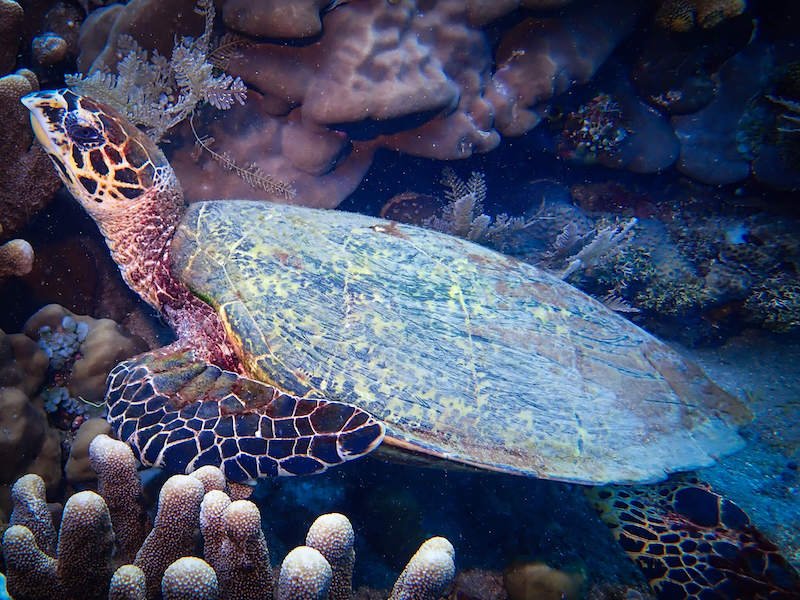 There actually aren't too many turtles in the Amed area, but this is one of the few sites where seeing them is pretty likely.
If that's one of your favorite animals to spot while diving, definitely ask your divemaster if you can add this to your list!
I even saw a white-tip reef shark (who was a lot more shy!).
Lean Wall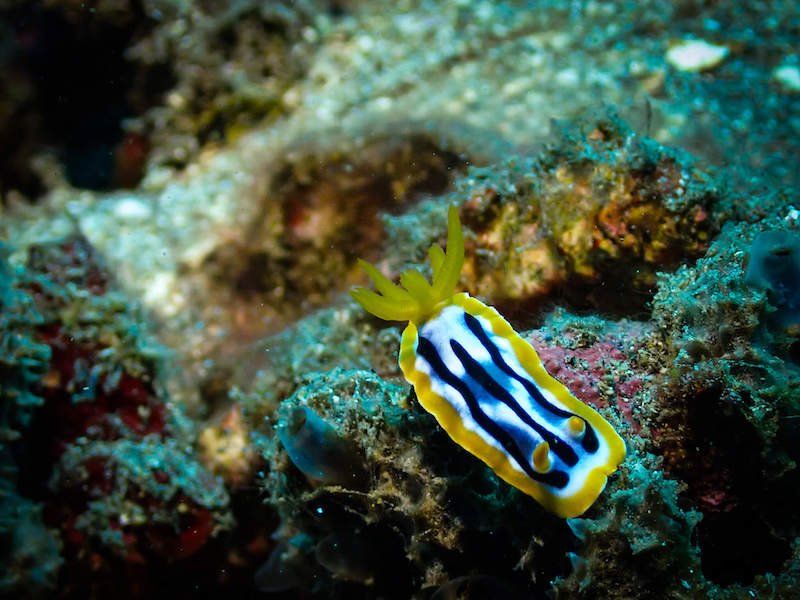 Dive Type: Shore dive to a wall dive with a beautiful coral garden
Dive Level: Beginner-friendly
Dive Profile: Maximum depth 25 meters, average depth 13 meters, dive time 60 minutes
Dive Sightings: Hypselodoris paradisa nudibranch, psychedelic batwing slug, black and white anemone fish, slender sapsucking slug, Chromodoris magnifica nudibranch, huge black frogfish, scorpionfish, Phyllidiopsis fissurata nudibranch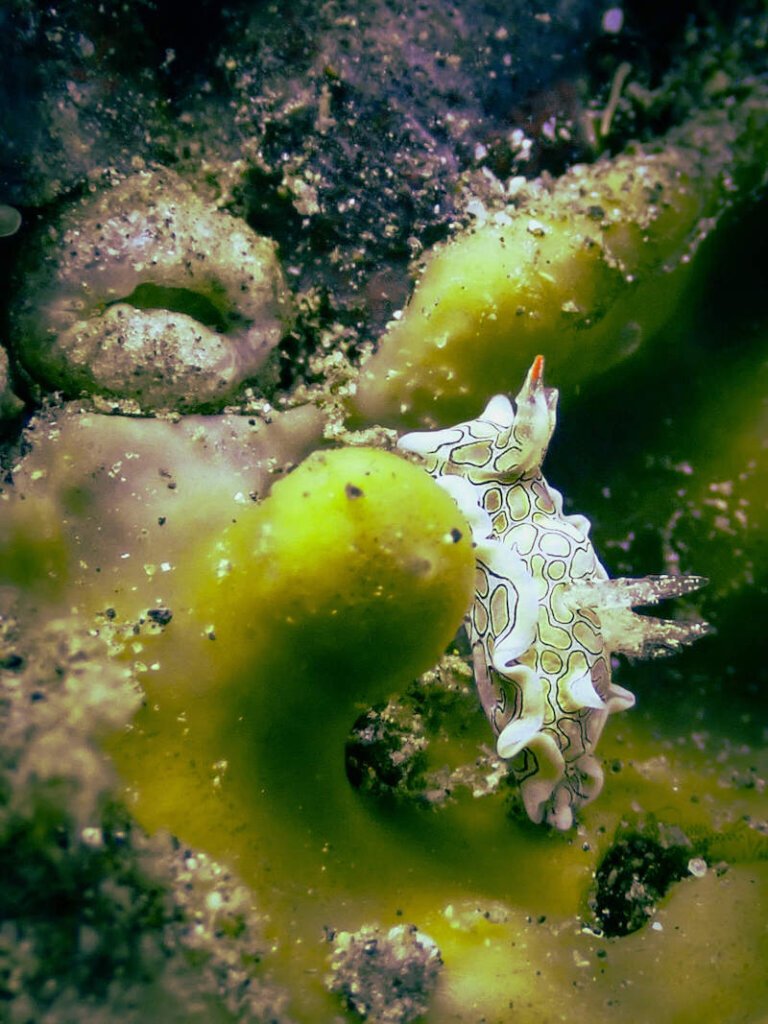 My Dive Experience: Firstly, this isn't a commonly discussed dive site in Amed, but it is mentioned here and also in a review left on the Amed White Sand Divers TripAdvisor page.
This is the name my divemaster gave me. Upon double-checking, it does seem to be a dive site, just not a commonly discussed one.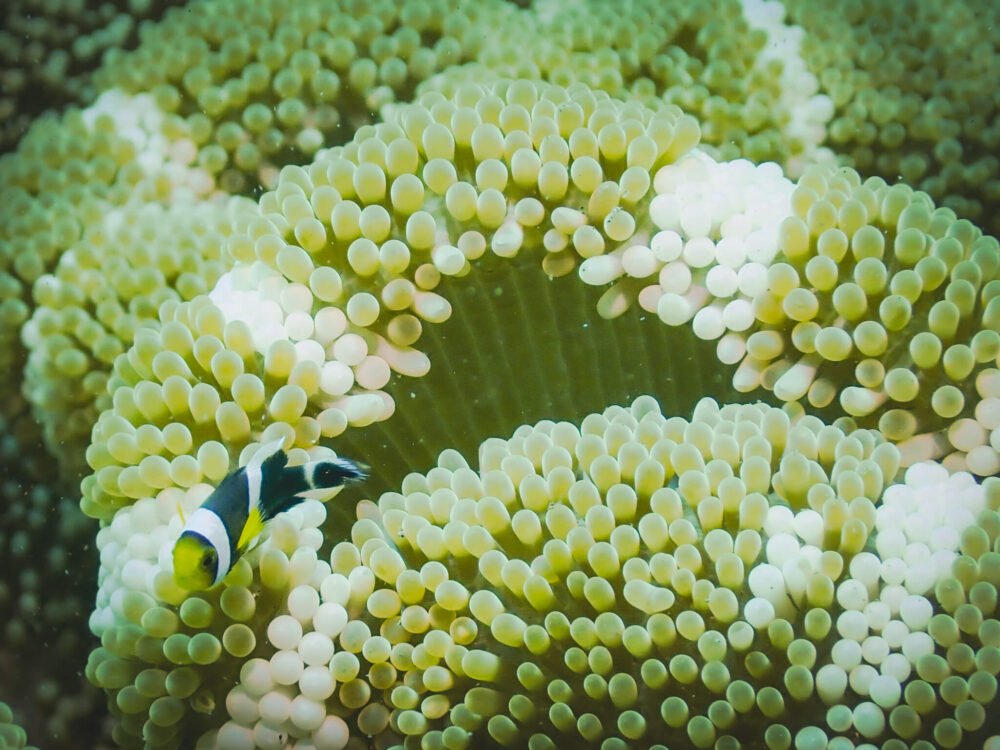 I'm going with it for the purposes of this post!
But don't expect everyone to know what you're talking about when you mention Lean Wall. Note that it's pronounced Lee-Ann, not "lean".
That said! This is a shore dive that you can do to reach a beautiful coral wall that has lots to see.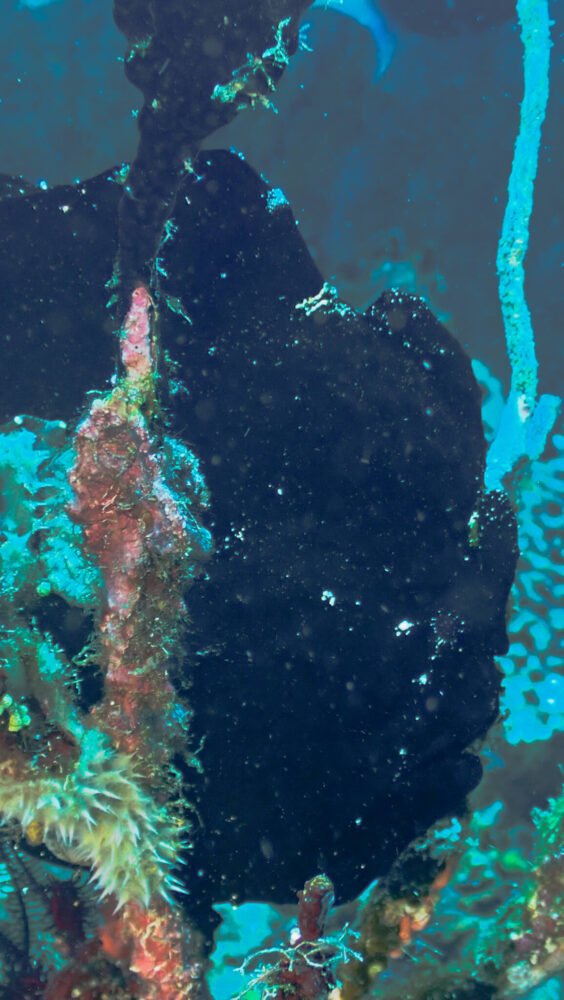 My favorite part was the enormous and well-camouflaged black frogfish.
This dive site is a nice mix of not needing a boat but still getting to enjoy the benefits of a wall dive (which is one of my favorite ways to dive).
And on the way out to the wall, there's lots of great muck diving to spot nudis and other fun critters.
USAT Liberty Wreck (Tulamben)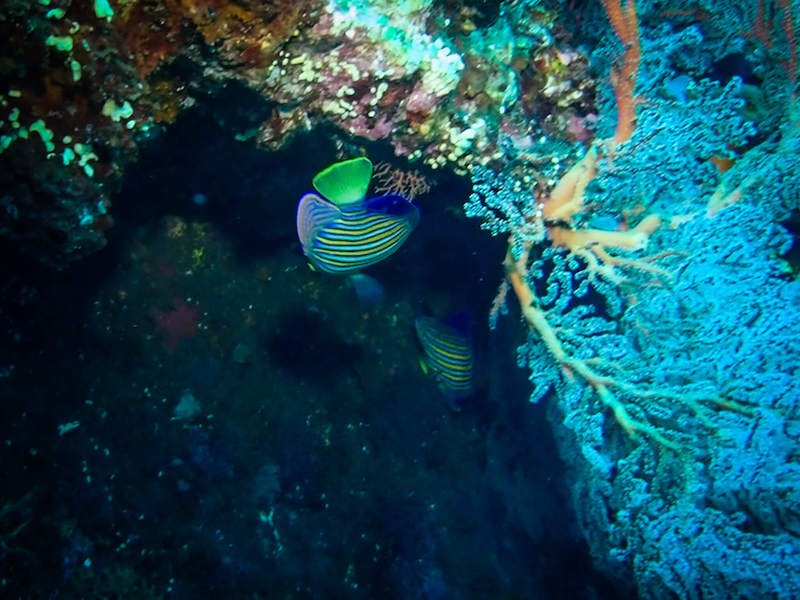 Dive Type: Shore dive to a wreck dive, with muck and reef diving possible. Note that this dive is not actually in Amed but rather in Tulamben, and thus needs a 30-minute drive to get here.
Dive Level: Beginner-friendly
Dive Profile: Maximum depth 24 meters, average depth 12 meters, dive time 55 minutes
Dive Sightings: Orangutan crab, regal angelfish, oriental sweetlips, dogface pufferfish, coral rabbitfish, Hypselodoris zephyra nudibranch, Samla bicolor nudibranch, Hypselodoris tryoni nudibranch, Goniobranchus hintuanensis nudibranch, clown anemonefish with fluorescent green bubble tip anemone.
My Dive Experience: I wrote a whole guide to my experience diving the USAT Liberty Wreck here — so if you want a full account, read that post!
This is a great dive site for a mix of wreck diving, macro stuff like pygmy seahorses and nudibranches, as well as larger fish like trevally, groupers, rabbitfish, and sweetlips.
Dive Sites in Amed I Didn't Dive:
Gili Selang
Ghost Bay (muck diving off Amed Beach)
Deep Blue
Bunutan
What to Do Besides Diving in Amed, Bali
Topside, there's a lot to do in Amed besides just diving (full post on the way)!
Of course, you can go snorkeling and experience the marine life even further, but there are other non-diving activities outside the water.
A few popular things you can do in Amed include: taking a Balinese cooking class at a place like Amed Harmony, go to a yoga class at Green Earth Village, or watch the sunset with Mount Agung views at Sunset Point Amed.
Outside of Amed, you can take a lot of great day trips. A few spots nearby Amed are Lempuyang Temple (home to the Insta-famous 'Gates of Heaven' where you can expect to wait a hellacious 3+ hours for a few-minute photo session), Tirta Gangga, and Taman Ujung.
There are also some great sunrise and sunset spots for great views of the region, in Bukit Cinta and Lahangan Sweet.